| | |
| --- | --- |
| | Blinkenlights will be at VCF. Will you? |
Coming Soon!
Evolution of Portable Computing!
Big Computing Flops!
And More Computers with Blinkenlights!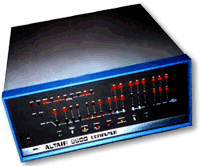 ACHTUNG! Alles touristen und non-technischen peepers!

Das machine control is nicht fur gerfinger-poken und mittengrabben. Oderwise is easy schnappen der springenwerk, blowen fuse, und poppencorken mit spitzensparken.

Der machine is diggen by experten only. Is nicht fur geverken by das dummkopfen. Das rubbernecken sightseenen keepen das cotten picken hands in das pockets, so relaxen und watchen das blinkenlights.